製薬業界で 12 年以上キャリアを持つ Sharon 先生による医療コラムをお届けします。
---
特集:医療英語 > 第 26 回:Traumatic Brain Injury (Part 1) (外相性脳損傷)

■
Sharon BeltrandelRio 先生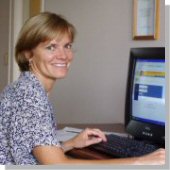 12 年以上製薬業界の第一線で活躍する Sharon 先生が 2004 年 12 月より不定期でコラムを持つことになりました。最近の製薬業界の動きや医療に携わる日本人が英語を話す時に注意すべき点等、比較的自由に書いてもらおうと思っております。書いて欲しい記事などございましたらレッスン中に Sharon 先生にお伝え頂くか support@manabi.st までご連絡ください。
Traumatic brain injury (TBI) can affect anyone at any age. Males aged 15 to 24 are vulnerable due to their tendency towards a high-risk lifestyle. Young children and people over 75 years old are susceptible to head injuries caused by falling. Violent shaking of an infant can also cause brain injury. Half of all TBI's in the United States are caused by accidents involving automobiles, motorcycles, bicycles and pedestrians1. Alarmingly, fifty percent of TBI incidents involve the use of alcohol2. The incidence rate of traumatic brain injury is estimated to be between 150-250 cases per 100,000 people per year in both industrialized and non-industrialized countries3. In the U.S., approximately 1.4 million people suffer from TBI annually and approximately 50,000 die from head injury4.
Traumatic brain injury occurs when sudden trauma causes damage to the brain5. It can result from a closed head injury, such as when the head suddenly and violently hits an object, or a penetrating head injury, when an object pierces the skull and enters brain tissue. The damage can be focal (limited to one area of the brain) or diffuse (involve more than one area of the brain). Depending on the extent of damage, the symptoms can be mild, moderate or severe. There are several types of TBI's6:
Concussion: short loss of consciousness due to a head injury
Depressed skull fracture: pieces of the broken skull press into brain tissue
Penetrating skull fracture: something such as a bullet pierces the skull
Contusion: a distinct area of swollen brain tissue mixed with blood released from broken blood vessels; can also occur in response to shaking of the brain within the confines of the skull (e.g., shaken baby syndrome)
Diffuse axonal injury or shearing: damage to individual neurons and loss of connections among neurons
Hematoma: heavy bleeding into or around the brain

Epidural hematoma: bleeding between the skull and the dura (one of the three membranes that covers the brain)
Subdural hematoma: bleeding between the dura and the arachnoid membrane (one of the three membranes that covers the brain)
Intracerebral hematoma ? bleeding within the brain itself
Since little can be done to reverse the initial brain damage caused by trauma, initial medical care focuses on stabilizing the patient, preventing further injury and ensuring proper oxygen supply to the brain and the rest of the body. Many TBI patients may also have spinal cord injuries so great care must be taken in moving and transporting them.
After the patient has been stabilized, medical personnel assess his or her condition by measuring vital signs and reflexes, and by performing a neurological examination. The patient's level of consciousness and neurological functioning is assessed using the Glasgow Coma Scale (GCS), a standardized 15-point test that uses eye opening, best verbal response and best motor response to determine the severity of the brain injury7. In addition, imaging tests such as x-rays, CT scans and MRI's are used to determine the diagnosis and prognosis.
Approximately fifty percent of TBI patients require surgery to remove or repair hematomas or contusions8. Serious head injuries may result in9:
Stupor: patient is unresponsive and can be aroused briefly by a strong stimulus such as sharp pain
Coma: patient is totally unconscious, unresponsive, unaware and unarousable, and does not have sleep-wake cycles; length is generally a few days to a few weeks
Vegetative state: patient is unconscious and unaware, but continues to have sleep-wake cycles and periods of alertness
Persistent vegetative state (PVS): patient is in a vegetative state for more than thirty days; upper portions of the brain are damaged but the lower portions are spared
Locked-in syndrome: patient is aware and awake but cannot move or communicate due to complete paralysis of the body; lower portions of the brain and the brainstem are damaged but the upper brain is not damaged
Disabilities caused by TBI depend on the severity of the injury as well as the age and general health of the patient. Some common disabilities include problems with cognition, sensory processing, communication, behavior and mental health. Part two of this article will address post-injury complications, long-term disabilities, treatment and prevention.
Discussion questions
Please summarize the article. What is the main point of the article?
What is a traumatic brain injury?
What are the main causes of TBI's?
What are the various types of TBI's?
What is the Glasgow Coma Score?
How is a patient treated immediately after a TBI?
What are the potential results of a TBI?
References:
---



©2023 まなび株式会社 All rights reserved.