製薬業界で 12 年以上キャリアを持つ Sharon 先生による医療コラムをお届けします。
---
特集:医療英語 > 第 23 回:Autism (自閉症)

■
Sharon BeltrandelRio 先生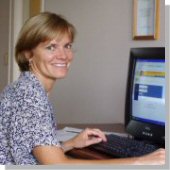 12 年以上製薬業界の第一線で活躍する Sharon 先生が 2004 年 12 月より不定期でコラムを持つことになりました。最近の製薬業界の動きや医療に携わる日本人が英語を話す時に注意すべき点等、比較的自由に書いてもらおうと思っております。書いて欲しい記事などございましたらレッスン中に Sharon 先生にお伝え頂くか support@manabi.st までご連絡ください。
Autism is a developmental disorder characterized by impaired social interaction, problems with verbal and nonverbal communication, and unusual, repetitive or severely limited activities and interests.1 Although it was once reported as a rare disorder, according to the U.S. Centers for Disease Control and Prevention, autism now affects one in every 150 children in the United States.2 One reason for the increase may be that in the past, only the most severe forms of the disease were reported.3 The various types of autism (ranging from mild to severe) are now better defined and awareness has increased substantially.
The potential causes of autism are intensely debated. Some researchers believe that it is caused by a genetic mutation. Others believe that childhood vaccines or environmental toxins may be involved. It has been suggested that the measles, mumps and rubella vaccine (MMR) may cause autism. However, studies (including several performed in Japan, which used the MMR vaccine between 1989 and 1993) show that the withdrawal of the MMR vaccination has had no effect on the incidence of autism and is most unlikely to be a main cause of autism.4,5
Autism ranges from a mild to severe affliction. For example, people with Asperger syndrome (one type of autism), demonstrate normal language development but odd behaviors amenable to change.6 Severe autism involves developmental disorders that severely impair people for life.
The hallmark of autism is impaired social interaction.7 Babies with autism may be unresponsive and focus intently on one object for long periods of time. Children may fail to respond to their name, have difficulty interpreting what others are thinking or feeling due to their inability to understand social cues (e.g., facial expressions and tone of voice), and lack empathy. Many children with autism demonstrate repetitive movements such as rocking or self-abusive behavior such as biting or head-banging. In addition, they may have a reduced sensitivity to pain, yet be abnormally sensitive to sensory stimulation such as sound or touch. Since autism varies widely in its severity and symptoms, doctors rely on a core group of behaviors related to the characteristics described above to diagnosis the disease. Furthermore, it is a very complex affliction and a comprehensive evaluation may involve a psychologist, neurologist, psychiatrist, speech therapist and other professionals. It is important to rule out hearing disorders that may cause behavior that could be mistaken for autism (e.g., delayed speech development).
Autism does not have a cure.8 Behavioral interventions and therapies are designed to remedy specific situations and can be very effective. Interventions and therapies target the core symptoms of autism, including impaired social interaction, verbal and nonverbal communication problems, and obsessive or repetitive routines. Most professionals agree that the earlier that the intervention begins, the better. Anti-depressants and anti-psychotic medications are sometimes prescribed (especially to treat severe behavioral problems).
Discussion questions
Please summarize the article. What is the main point of the article?
What is the incidence of autism?
What do some researchers believe is causing the increased incidence of autism?
What causes autism?
What are the symptoms of autism?
How is autism diagnosed?
How is autism treated?
References:
---



©2023 まなび株式会社 All rights reserved.