製薬業界で 12 年以上キャリアを持つ Sharon 先生による医療コラムをお届けします。
---
特集:医療英語 > 第 14 回:Knee Replacement Surgery-- Part 1: A Technical Overview(膝関節移植手術(1))

■
Sharon BeltrandelRio 先生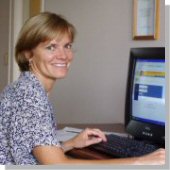 12 年以上製薬業界の第一線で活躍する Sharon 先生が 2004 年 12 月より不定期でコラムを持つことになりました。最近の製薬業界の動きや医療に携わる日本人が英語を話す時に注意すべき点等、比較的自由に書いてもらおうと思っております。書いて欲しい記事などございましたらレッスン中に Sharon 先生にお伝え頂くか support@manabi.st までご連絡ください。
Knee replacement surgery has become very common in the United States, and is becoming increasingly common around the world. According to the United States National Center for Health Statistics, the rate of knee replacement in the U.S. increased 70% during the period 1995-2004, for people 65 years and older.1 An estimated 300,000 knee replacements are performed in the U.S. each year and the costs of knee replacement surgery totaled $11.9 billion in the United States in 2003.2, 3Equally important, the surgery has had a tremendous impact on improving the quality of life for thousands of people.4
The knee joint is one of the most important joints in the body, as well as the largest and most complex joint. It is a hingelike joint, formed where the femur (thighbone), tibia (shinbone) and patella (kneecap) meet. Two rounded protrusions at the end of the femur and two at the end of the tibia slide against each other, enabling the knee to bend. Cartilage, a smooth layer of tissue, covers the protrusions so that the femur and tibia move smoothly against each other. The remaining surfaces are covered by synovial membrane, a thin, smooth tissue that releases a special fluid to lubricate the knee and reduce friction. The patella is a thick flat triangular bone that protects the front of the joint and increases the leverage of the quadriceps (thigh muscle). Stability is provided by large ligaments attached to the femur and tibia, and the quadriceps gives the knee strength.
Infection, injury and disease can result in knee pain and stiffness. Ninety-seven percent of all knee replacements are performed due to osteoarthritis.5 Osteoarthritis causes swelling of the joints and friction between the cartilage and bones. The friction causes the cartilage and bones to break down, and then the bones begin to move against each other, resulting in pain and loss of movement. Knee replacement surgery is performed when medication and walking aids no longer provide relief. In knee replacement surgery, the roughened ends of the femur and tibia, as well as the underside of the patella, are replaced with a knee prosthesis. The prosthesis is made of metal (usually titanium, stainless steel or cobalt) and polyethylene, a type of plastic. The prosthesis is held in place by special cement and the bone growing into the prosthesis. The complication rate after knee replacement surgery is low, about 2 percent.6
Knee replacement surgery, first performed in 1968, is one of the most important orthopedic surgical advances of the twentieth century.7 Knee replacement techniques, prostheses and care have improved significantly during the past few decades. In the future, the prevalence of knee replacement surgery is expected to increase due to the aging population and increasing trends in overweight and obesity.
Discussion questions
Please summarize the article. What is the main point of the article?
How many knee replacements are performed in the U.S. and what are the total costs?
Please describe the knee joint.
How does the knee joint work? Why is the knee an important joint?
Why is knee replacement sometimes required?
Please describe knee replacement surgery.
Why is the prevalence of knee replacement increasing?
References:
---



©2023 まなび株式会社 All rights reserved.