製薬業界で 12 年以上キャリアを持つ Sharon 先生による医療コラムをお届けします。
---
特集:医療英語 > 第 8 回:Gastric Cancer in Japan (日本の胃癌事情)

■
Sharon BeltrandelRio 先生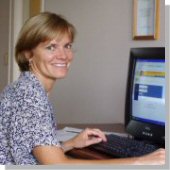 12 年以上製薬業界の第一線で活躍する Sharon 先生が 2004 年 12 月より不定期でコラムを持つことになりました。最近の製薬業界の動きや医療に携わる日本人が英語を話す時に注意すべき点等、比較的自由に書いてもらおうと思っております。書いて欲しい記事などございましたらレッスン中に Sharon 先生にお伝え頂くか support@manabi.st までご連絡ください。
The good news is that gastric cancer incidence rates are decreasing in Japan, which means that a smaller percentage of the population is being diagnosed with stomach cancer. The bad news is that the absolute number of people with gastric cancer is increasing due to the rapid aging of the Japanese population.1 However, there is more good news. In Japan, gastric cancer is usually diagnosed at an early stage, resulting in improving survival rates. In fact, although gastric cancer is five times more prevalent in Japan than in the West, mortality rates are lower in Japan.2
Stomach cancer, or gastric cancer, is the growth of cancer cells in the lining and wall of the stomach. Most stomach cancers start in the mucosa, the innermost layer of the stomach. About 90 to 95% of malignant tumors of the stomach are adenocarcinomas.3 Other types of stomach cancer include lymphomas, sarcomas and other rare types. Surgery is the most common treatment for stomach cancer. Sometimes, especially in advanced cases, surgery may be combined with chemotherapy or radiation.3
There is much debate regarding the cause of stomach cancer. It is thought that a combination of hereditary and environmental factors play a part.5 According to the National Cancer Institute in the United States, since 1930 the incidence of gastric cancer in the U.S. has decreased four-fold, to approximately seven cases per 100,000 people.6 The reasons for this decrease are unknown but are believed to be related to improved food storage or dietary changes such as reduced salt intake. It is also believed that Japanese gastric cancer incidence rates are decreasing due to lifestyle and dietary changes, such as reduced salt use, increased consumption of fresh fruits and vegetables, and improved food storage.7 Hopefully, these changes, as well as an avoidance of smoking, will lead to both a decrease in gastric cancer incidence rates and a decrease in the absolute number of Japanese diagnosed with stomach cancer.
Discussion questions
Please summarize the article. What is the main point of the article?
If the incidence of gastric cancer is decreasing in Japan, why is the absolute number of people with gastric cancer increasing?
What is the most common type of stomach cancer?
How is stomach cancer treated?
What causes stomach cancer?
Why is the incidence of stomach cancer decreasing in Japan?
References:
Stakeholder Opinions: Gastric Cancer - Targeted Therapies Home In On a Neglected Tumor Type. Datamonitor. 30 March 2006.
Gastric Cancer (PDQR): Screening. Health Professional Version. National Cancer Institute. Last modified 23 March 2006.
A. Ohtsu, S. Yoshida, and N. Saijo. Disparities in Gastric Cancer Chemotherapy Between the East and West. J. Clin. Oncol., 10 May?2006; 24(14): 2188 - 2196.
---



©2023 まなび株式会社 All rights reserved.