製薬業界で 12 年以上キャリアを持つ Sharon 先生による医療コラムをお届けします。
---
特集:医療英語 > 第 4 回:New Obesity Treatments on the Horizon (肥満治療)

■
Sharon BeltrandelRio 先生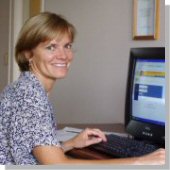 12 年以上製薬業界の第一線で活躍する Sharon 先生が 2004 年 12 月より不定期でコラムを持つことになりました。最近の製薬業界の動きや医療に携わる日本人が英語を話す時に注意すべき点等、比較的自由に書いてもらおうと思っております。書いて欲しい記事などございましたらレッスン中に Sharon 先生にお伝え頂くか support@manabi.st までご連絡ください。
Obesity is becoming a problem of epidemic proportions. According the World Health Association, there are more than 300 million obese adults (body mass index or BMI > 30) worldwide. In the U.S., approximately 9 million adults suffer from extreme obesity (BMI > 40), approximately 60 million suffer from obesity (BMI > 30), and approximately 127 million are overweight (BMI > 25). Analysts predict that the prevalence of obesity and extreme obesity will increase to 168 million in the U.S. by 2012. Overweight and obese people have an increased incidence of a number of serious diseases, including diabetes, cardiovascular disease, hypertension and stroke, and certain forms of cancer. The health consequences of obesity range from increased risk of premature death to serious chronic conditions that reduce the overall quality of life. Furthermore, The National Institutes of Health calculate that overweight and obese individuals cost the U.S. about $122.9 billion per year. Obesity and related ailments result in at least $62.7 million in doctors' visits and $39.3 million in lost workdays.
Currently there are not many options for obesity treatment. Pharmacological therapies (Xenical®/orlistat and Meridia® or Reductil®/subutramine) have shown little efficacy in the treatment of obesity. They typically produce a 5-10% reduction in body weight and have unpleasant side effects. Sales of obesity drugs totaled about $526 million in 2004. Bariatric surgery is recommended only for extremely obese patients or obese people that also suffer from other serious medical conditions. The patients undergo a surgical procedure to reduce the size of their stomach and intestine. After the surgery, the patients become full with less food, and some of the calories ingested do not get absorbed, resulting in a very significant reduction in caloric intake. These patients typically lose 70% of their excess weight (50-60 kg) in 12 to 18 months following the surgery and they keep it off. The American Society for Bariatric Surgery estimates the number of gastric bypass surgeries performed in the U.S. increased from 16,800 in 1993 to 103,200 in 2003. However, complications caused by the surgery may be as high as 10 percent or more.
However, promising new obesity treatments are on the horizon. Sanofi-Aventis' Acomplia™ (rimonabant) is expected to become the first obesity treatment to achieve blockbuster status. The drug affects the Endocannabinoid (EC) System, a natural physiological system believed to play a role in maintaining energy balance through the regulation of food intake and energy expenditure. The EC system is also believed to play a role in tobacco dependence. In overweight/obese people, excessive eating and fat accumulation is associated with over-activation of the EC System, which also becomes unbalanced with chronic tobacco use. In clinical trials, Acomplia treatment resulted in weight loss, reduced waist circumference and improvement of lipid and glucose metabolism. In those that smoke, the drug is thought to help people to stop smoking without significant post-cessation weight gain. Side effects included depression, headaches, dizziness and nausea. In June 2005, Sanofi-Aventis announced that the US FDA accepted for filing the company's New Drug Application (NDA) for Acomplia, and that a Marketing Authorization Application to the European Medicines Agency (EMEA) had also been submitted.
Another new obesity drug on the horizon is UK-based Alizyme's ATL-962 (celistat), which many analysts believe is the second most promising drug in the pipeline. It is a drug that reduces the absorption of dietary fat with a similar mechanism of action to Roche's Xenical. However, ATL-962 appears to have fewer side effects and lower production costs. Alizyme recently completed a study in 370 obese patients. After three months patients treated with ATL-962 showed similar weight loss to that seen with Xenical, however patients on ATL-962 experienced 90% fewer severe gastrointestinal side effects compared to patients receiving Xenical. Another study in Europe enrolling up to 600 obese diabetic patients whose diabetes is currently managed with metformin is underway and results are expected at the end of 2005. The trial compares ATL-962 to placebo and Xenical. In January 2004, Takeda paid $3 million to exercise its rights to license and develop ATL-962 in Japan, and clinical trials are underway (the total agreement is worth up to $42 million including milestone payments, plus royalty payments). Analysts expect the drug to be launched in 2008.
Of course the best way to avoid obesity is to eat a healthy diet and exercise at least three times a week. However, for those who need help losing weight, hopefully these new treatments will assist them in achieving their weight-loss goals and thereby improve their health.
---



©2023 まなび株式会社 All rights reserved.