製薬業界で 12 年以上キャリアを持つ Sharon 先生による医療コラムをお届けします。
---
特集:医療英語 > 第 1 回:When Giants Stumble

■
Sharon BeltrandelRio 先生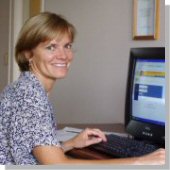 12 年以上製薬業界の第一線で活躍する Sharon 先生が 2004 年 12 月より不定期でコラムを持つことになりました。最近の製薬業界の動きや医療に携わる日本人が英語を話す時に注意すべき点等、比較的自由に書いてもらおうと思っております。書いて欲しい記事などございましたらレッスン中に Sharon 先生にお伝え頂くか support@manabi.st までご連絡ください。
On September 30, 2004, pharmaceutical giant Merck announced the voluntary withdrawal of its multi-billion dollar arthritis drug, Vioxx®, because new clinical trial data found that Vioxx doubled the risk of cardiovascular events, including heart attack and stroke, after 18 months of use. Vioxx, which belongs to a class of drugs called cox-2 inhibitors used to treat pain and inflammatory illnesses, was launched in the US in 1999, and it has been used by more than 80 million people around the world. Sales of Vioxx totaled $2.5 billion in 2003, making it Merck's second best-selling drug. Given the magnitude of this event and its effects on Merck, it is not surprising that several aspects of the pharmaceutical and biotechnology industry are feeling the ramifications.
In the area of research, the withdrawal of Vioxx has led to an increased focus on biomarkers. As defined by the US National Institute of Health (NIH), a biomarker is a characteristic that can be objectively measured and evaluated as an indicator of normal biological processes, pathogenic processes or pharmacological responses to a therapeutic intervention. In other words, biomarkers are biological markers that would allow doctors to determine whether a patient will respond to a particular drug. Scientists believe that in the future, physicians might be able to run a battery of tests on each patient before prescribing any medication to make sure that the drug will actually provide some benefit to the patient. Pharmaceutical companies are dedicating additional funds to this area of research, and there are new opportunities for biotechnology companies such as Caprion Pharmaceuticals, Aclara Biosciences and Power3 Medical Products. These companies have recently formed collaborations with pharmaceutical companies such as AstraZeneca, GlaxoSmithKline and Wyeth to discover biomarkers.
The development and approval process of new pharmaceutical agents is also feeling the affects of the Vioxx withdrawal. Companies have increased their attention on the development process and strategy, including the types of clinical trials to be conducted and the information to be gained. Regulatory agencies such as the US Food and Drug Administration (FDA) are expected to apply more scrutiny than ever before and could increase the clinical trials required both prior to approval and after approval. Merck's second-generation cox-2 inhibitor, called Arcoxia, is currently under review at the FDA. However, now the FDA is likely to request more safety data, not only from Merck but also from other companies with their own cox-2 inhibitors.
In the area of sales and marketing, companies will continue to question whether their reliance on a few blockbusters is the best strategy. Given the lawsuits that have been filed against Merck in the US, all companies must also review their risk management plans, since virtually all medicines carry a risk of side effects that may not be decisively recognized until millions of people have taken the drugs. Pfizer, which makes Vioxx's main competitors, Celebrex and Bextra, has reviewed its studies and has not seen cardiovascular problems. Pfizer does not plan to stop selling its drugs, and Novartis and Merck, both of which are developing new cox-2 inhibitors, plan to continue the development their drugs in this lucrative area.
Given the wide-ranging effects of the withdrawal of Vioxx, some experts question whether Merck can survive as an independent company, especially since Zocor®, its best selling drug for treating high cholesterol, loses patent protection in early 2006. Merck has distinguished itself as a top company in many areas, ranging from its ground-breaking scientific research to awards for its human resource management. Its ability to weather this current quandary will truly test the company. However, during this trying time, hopefully they will keep in mind that

It's not what happens to you that counts, but how you handle it.
It's not how far you fall, but how well you bounce.


Hopefully Merck will persevere and continue its rich tradition as a top pharmaceutical company, and continue to contribute to the advancement of human health.
---



©2023 まなび株式会社 All rights reserved.