製薬業界で 12 年以上キャリアを持つ Sharon 先生による医療コラムをお届けします。
---
特集:医療英語 > Case 6: Influenza - インフルエンザ -

■
Sharon BeltrandelRio 先生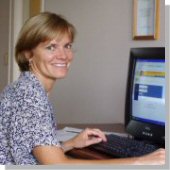 12 年以上製薬業界の第一線で活躍する Sharon 先生が 2004 年 12 月より不定期でコラムを持つことになりました。最近の製薬業界の動きや医療に携わる日本人が英語を話す時に注意すべき点等、比較的自由に書いてもらおうと思っております。書いて欲しい記事などございましたらレッスン中に Sharon 先生にお伝え頂くか support@manabi.st までご連絡ください。
A 13-year-old male visited his primary care physician complaining of flu-like symptoms. He had not received a flu vaccination. His peak temperature was 102°F (38.9°C) and he suffered from mild upper respiratory congestion. Group A streptococcus was found to be negative in a rapid screening test. The physician prescribed an anti-pyretic, rest and plenty of fluids. The boy took the medicine, but continued to suffer from fever, nausea, emesis, malaise and restlessness. Two days later the boy was taken to the local emergency department. He was found to be hypotensive. Despite intensive resuscitative efforts, he died ten hours later.
The postmortem examination revealed necrotizing pneumonia and extensive alveolar hemorrhage. Influenza A (H1N1) infection was confirmed in a viral culture and methicillin-resistant Staphylococcus aureus was isolated from a tracheal aspirate.
The boy's parents filed a claim against the primary care physician for failure to recognize the seriousness of his illness, failure to correctly diagnose the viral origin of his illness and failure to prescribe an anti-viral agent.
Influenza vaccination is currently recommended for high-risk persons (including children and pregnant women) and healthy adults who are likely to come into contact with those at risk. Furthermore, there is strong evidence that immunization of healthy persons benefits the community. The major influenza virus that was prevalent during this season was influenza A (H1N1), a strain that was included in the available vaccine. There was no shortage of vaccine supply during this influenza season.
If a person develops influenza, antiviral treatment is routinely recommended for those who are hospitalized and for those presenting to ambulatory facilities in the early phase of illness who are considered to be at high risk for serious consequences. However, it is very difficult to predict the eventual outcomes in the early stages of the illness.
Discussion questions
Please summarize this case. What is the main point of the article?
Was the patient's initial work-up complete? Why or why not?
Based on the boy's history, should the physician have considered him to be at high risk for serious consequences? Why or why not?
Who should receive an influenza vaccination? Whose responsibility is it to see that a minor receives an influenza vaccination?
Was the physician negligent? Why or why not?
---



©2023 まなび株式会社 All rights reserved.