製薬業界で 12 年以上キャリアを持つ Sharon 先生による医療コラムをお届けします。
---
特集:医療英語 > Case 2: Hemoptysis and lung cancer - 喀血&肺癌 -

■
Sharon BeltrandelRio 先生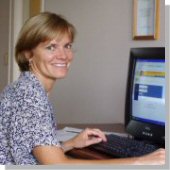 12 年以上製薬業界の第一線で活躍する Sharon 先生が 2004 年 12 月より不定期でコラムを持つことになりました。最近の製薬業界の動きや医療に携わる日本人が英語を話す時に注意すべき点等、比較的自由に書いてもらおうと思っております。書いて欲しい記事などございましたらレッスン中に Sharon 先生にお伝え頂くか support@manabi.st までご連絡ください。
Having suffered from hemoptysis (the expectoration of blood from the larynx, trachea, bronchi or lungs) for a few weeks, a 33-year-old female contacted her primary care physician's office. She spoke to her primary care physician, who prescribed antibiotics and instructed the patient to call again if her condition did not improve.
The patient went to the primary care physician's office four weeks later, complaining of dyspnea and hemoptysis. A radiologist determined that her chest X-ray was normal except for a small area of infiltrate in her left lobe. The same physician who had spoken to her on the telephone examined her and diagnosed pneumonia. Another course of antibiotics was prescribed and the patient was instructed to return after completing the antibiotics.
The patient did not complete the antibiotics and did not return to her doctor's office until six weeks later, after suffering from hemoptysis again. Another X-ray was taken and the staff radiologist determined that signs of infiltrate in the left lobe were still present. The doctor believed that the infiltrate was pneumonia-related and resistant to the previously prescribed antibiotics. So he prescribed different antibiotics and instructed the patient to take them for seven days and then return. However, within a few days she experienced dyspnea and a sharp pain in her left lung. She called her primary physician and was immediately referred to a respiratory specialist.
When she was examined by the respiratory specialist she also complained of headaches. He performed a CT scan and diagnosed stage IV lung cancer with metastasis to the brain. The patient passed away the following year.
The patient filed a claim against her primary care physician due to the delay in diagnosis and treatment of lung cancer.
Discussion questions
Please summarize this case. What is the main point of the article?
Was the patient's initial work-up complete? Why or why not?
Was the primary care physician's initial diagnosis justified? Why or why not?
Do you think the primary care physician suspected lung cancer? Why or why not?
Did the respiratory specialist perform the appropriate tests? Why or why not?
Should the patient have been informed of the worst possible diagnosis or would this have frightened her unnecessarily?
Was the primary care physician negligent? Why or why not?
---



©2023 まなび株式会社 All rights reserved.